8. 8Brand Launch – Little Free Radical
If you love Etsy and handmade goods, you have probably already heard of Little Free Radical. Crystal, owner and mastermind behind LFR, sells handmade and eco friendly, locally manufactured products perfect for your next party, wedding or photo shoot. Coming from a formerly very colorful brand, Crystal was looking for a more minimal color palette this time around and really wanted to something with a retro/vintage feel. For the inspiration, we combined a couple shades of mint, black and gray as well as a dark kraft that she plans to use for her new packaging.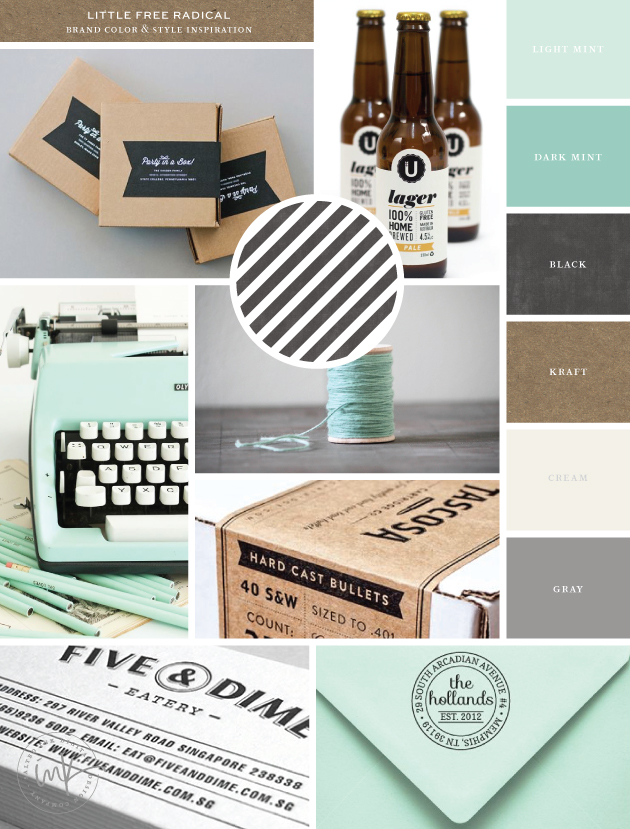 package  //  lager  //  typewriter  //  twine  //  tascosa  //  five & dime  //  the hollands
Once we established the overall mood and color palette for her new brand development, I got to work on the logo design. I had so many different ideas for this one that I actually ended up presenting quite a long list of options. I put together a variety of hand drawn lettering and elements as well as some fun font combinations.  Here are the samples:

After seeing the different logo options, Crystal stuck true to her initial retro vision but also loved a lot of the elements in the other concepts like the party hat and silhouette. So, we combined and expanded on all of her favorite things to form one pretty awesome brand with lots of product sketches to be used on her new packaging. We also created some cool little tags, stickers, and stamps to get her started with plans to break ground on her new website in the fall.