11. 30Launching 2016 – The Brand Bar By Salted Ink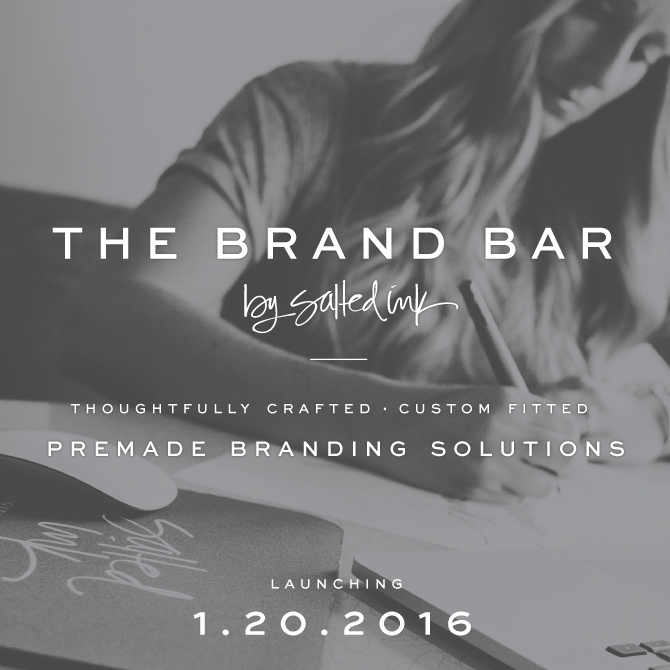 The concept of The Brand Bar has been running through my mind for quite some time now and I am so pumped to announce the official launch in January. While I absolutely love working through the custom design process with my clients, over time I also noticed a trending need that the custom process didn't quite address. A lot of potential clients have contacted me over the years that were either too time crunched for the custom branding process, not sure how to explain their vision, had anxiety over the unknown of the custom process, and/or just had a limited budget but still really wanted a thoughtfully designed brand that was cohesively crafted and uniquely theirs.
At the same time, as a brand designer I constantly have ideas that might not be a fit for any of my custom clients at the time but would hit the nail on the head for some hardworking fellow entrepreneur out there in search of the perfect brand. So I thought, maybe…just maybe I can create some pretty awesome brands that are a complete turn key package (from business card designs to cohesive social media collateral) and they will find a forever home with some amazing business owner out there through the creation of The Brand Bar.
So there you have it ladies and gents…The Brand Bar is in the works and set to launch January 20th 2016. There will be a range of brand styles in our initial offering, from hand drawn to modern with designs that will cross many industries. All will be custom fitted to the purchasing client and each brand will only be sold once. My plan is to release new brands each quarter but to be honest I am still hammering out the details and open to your suggestions. More details to be announced as we approach so please sign up on The Brand Bar page to be the first to know when we go live and check back to that same page for updates and sneak peeks!